As May winds to a close, I feel like I can finally rely on my legs to be there when needed. Rides that used to exhaust me now only make me tired, and I know what pace to keep to stay in rhythm. Each month this year, my average speed has inched up a 1/10 of a mph. I know that sounds meaningless, but if you ride a bike, you know it's not. You can't ride WITH someone who has an average of 1/2 mph more than you. In an hour, you're watching their Dinotte hi-intensity tail light fade away a half mile ahead of you.
Anyway, Tuesday was a rain out, but I was able to ride on both Thursday after work and then again this morning. I plan on the usual Sunday afternoon casual ride tomorrow as well.  Thursday night, Therese and Frank met me up in Prattville for a hilly ride. It was her first time for that route and her husband Chris had told her to make sure we kept her off busy streets and out of harm's way. She whined about the hill climbs, but did just fine. It was a perky ride, and at the end Frank put the hammer down. Now, Frank is riding a trekking bike. Monster handlebars like these, except he also had aerobars on them. (a seat for his grand daughter actually)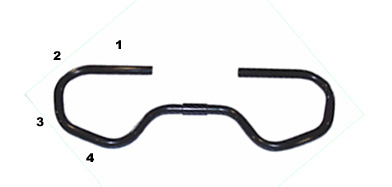 He has a leather saddle with springs, fenders, a frame bag with 5 lbs of lead acid car batteries for his hi-volt lighting system, and all this is powered by a 104 mm bolt circle mountain crank.
I say all this because when he got up to 30 mph on the flat for our last leg of the ride, I simply could not hold his wheel. Frank is also no sylph. He does however have legs. He has had his for a while, while I am just thinking that mine are making an appearance.
We made it back to the parking lot, and Therese was saying, "Yep, I told Chris you'd take care of me." This was followed by    :
Therese demonstrated the effects of not unclipping before you come to a stop. She looks dazed and stunned here, but she is just taking a break after the hard chase of Frank moments before. It was a great ride and we had a nice moving average. Around 15 I think.
This morning, Club Regular and Club Lite both left from Pintlala on their rides.  The regular folks wanted to get 50 - 70 miles at 18 mph avg, which was way above my level. The Lite-ers wanted 30 - 35 at 14 - 16. We started 30 mins after they did and rode a nice 33 mile route through Montgomery County. We had a baker's dozen in our group today, including new rider Ron (a pal of Frank's but not as fast as he is, YET) and the return of the John and Kathy R who enjoyed some excellent cycling up in the Xenia OH area recently. We made the happy discovery that the store on US 331 by the Metric loop is open again. It's a country crafts and antiques place, but they sell bottled water and have indoor plumbing. Good to make a note of that. Here we are pulling up for a breather:
We took Old Sellers back north, and on the way, Mike had a flat. How many rocket scientists DOES it take to change a flat tire? Look here and judge for your self.
I count at least 5. Now Mike had some CO2 carts to refill the tube. From the "whoosh" sounds we heard, I don't think any of the CO2 got in the tube. Frank then pulled out his hand pump and tried to get air in the tube. Joe says that Frank nearly passed out from the effort. In the time they took, Mike Munk could have changed every tube on every bike on this ride. Kathy K got in a little nap as well. It did give me an opportunity to talk about a Reds Schoolhouse ride with Alice, which John C also wanted to know about. And swap info on rail trails with John R. We finally got going again and made it back.
When we retruned to the cars, we heard the bad news that there was a wreck in the fast group. Our good riding friend Vanessa crashed hard, and has a broken collarbone and maybe some ribs we have been told. Her helmet possibly saved her life, since WITH it, she had a concussion.  Details of how it happened are sketchy right now, and our prayers for her prompt return to fully healthy status are going out. Always wear your helmet. Kapiche?
I did wrap up the day with an after ride Starbucks Frappuccino from the C-store by the church. We use their facilities all the time, so I try to patronize the store too. Why a coffee product today?  Look at the lapel pin in the picture :)
Tailwinds everybody!  get well soon Vanessa.